Gateworks Internet of Things (IoT)
Gateworks is a hardware company that designs and manufactures rugged & industrial single board computers and radios that can be used for IoT systems, most typically Gateways and Edge devices. Gateworks can custom create sensors as well for high volume projects. Industrial IoT (IIoT) requires rugged hardware with long life availibility, all of which is part of the ​Gateworks Advantage.
Visit the ​Gateworks IoT Primer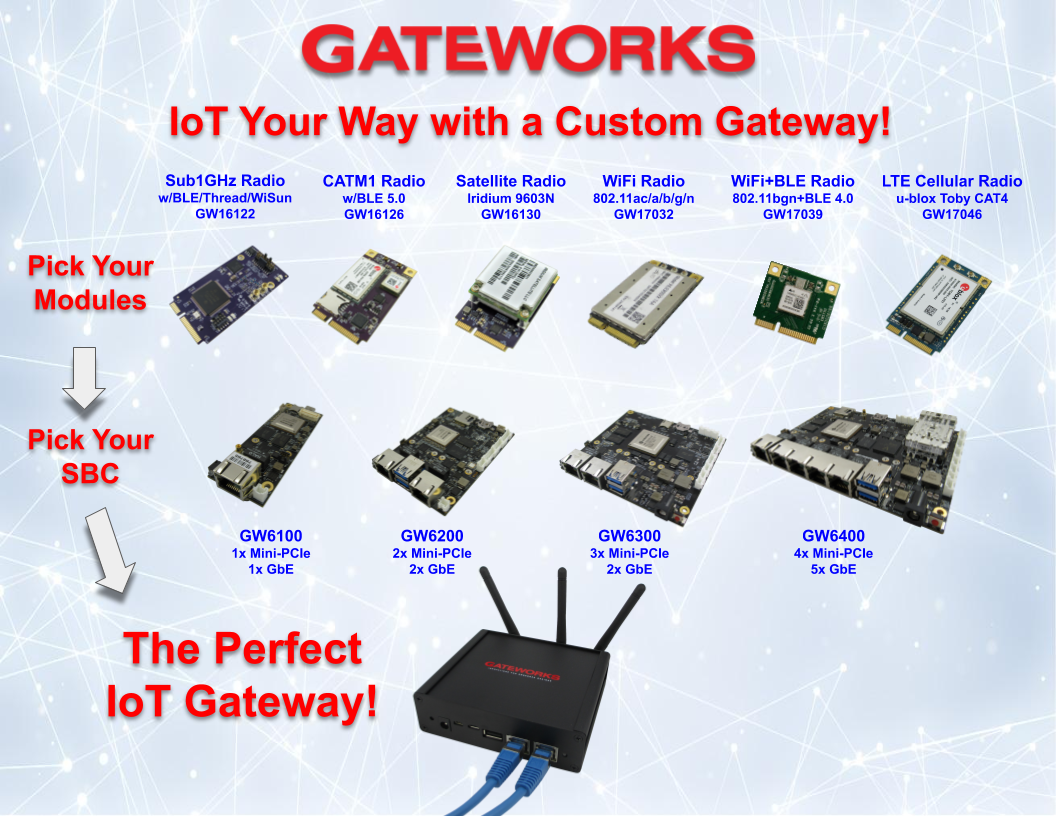 IoT Radio Technologies
Many different technologies exist. Each technology has it's strengths and weaknesses. Choosing a technology will depend on many factors, including, but not limited to: range, number of clients, interference, price
Long Range
Typically for ranges of 300ft to several miles. Even though long range, some technologies use very low power.
Sub 1GHz 802.15.4
LoRA

Sub-1GHz, Chirp Spread Spectrum
Concentrator Cards:

Cellular

Utilizing cellular networks such as AT&T, Verizon, etc. A direct connection to the cloud.
LTE CATM1 is low bandwidth designed for small amounts of data such as IoT sensor readings.

Satellite

Offering global coverage, relying on the Iridium satellite network.

Sigfox

Sub-1GHz, Low power, uplink only, low data rate. Limited availability.
Medium Range
Short Range
Short range is typically used for items under 10ft, typically used in asset tracking, etc.
IoT Clouds
Microsoft Azure
Amazon AWS
Google
The Things Network (TTN)(LoRa)
IoT Software Solutions
​

OmnIoT !SoftHub

The OmnIoT SoftHub? Platform allows users to quickly and inexpensively build their IoT application Edge Infrastructure.

Losant is an easy-to-use and powerful Enterprise IoT Platform designed to help teams quickly build real-time connected solutions.
IoT Application Showcases and Demos
Attachments
(7)
Download all attachments as: .zip