MiniPCIExpress Accessory Modules
Gateworks single board computers use Mini-PCIe sites for expansion. Many customers utilize these for WiFi? and cellular modem support however there are many other uses as well. The Mini-PCIe specification allows for both PCIe and USB signaling on the connector. Depending on the specific SBC, some sites support both PCIe and USB, PCIe only or USB only. The designer should be aware of this when selecting a peripheral board. Information for each of the slots on Gateworks boards can be found in the user manual.
Below is a list of Mini-PCIe adapters that Gateworks manufacturers. Note there are also many other adapters available from other 3rd party embedded hardware manufacturers so if you don't a card that meets your requirements contact our sales department for recommendations. Gateworks can also design custom adapters for volume opportunities.
Gateworks SIM, USB, and micro-SD Adapter - GW16103
This is a very popular adapter to allow cellular SIM.
Please check out the full features: GW16103 Adapter Wiki Page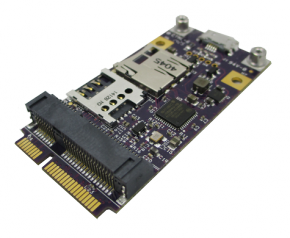 USB Adapter - GW16112
This is useful for adding more USB ports. This only works on Mini-PCIe slots that have USB routed to them. Consult the user manual for which ports these are, or look at the silkscreen on the board.
​Please read here for more information on the GW16112
Iridium Satellite Modem - GW16130
CATM1 Cellular Modem & Bluetooth - GW16126
Digital / Analog IO Card - GW16113
The GW16113 board offers the following:
Analog I/O Functions Include ADC, DAC, PGA, OPAMP, and Comparators Digital I/O Functions Include GPIO, PWM, I2C, SPI, UART, Counters, and Timers
Please read here for more technical information on the GW16113
Video / Audio Cards
AVC8000nano - Video capture card for QTY (8) D1 analog inputs.
Gigabit Ethernet Cards
Please see our Gigabit information page: Gigabit Ethernet Mini-PCIe Cards
Mini-PCIe Mechanical Specification
Please see here: PCI
USB Sites
| Board | miniPCIe Socket | USB |
| --- | --- | --- |
| GW610x | J6 | Provides USB2 or USB3 (see hwconfig) |
| GW620x | J6 | Provides USB2 or USB3 (see hwconfig) |
| | J8 | Provides USB2 |
| GW630x | J9 | Provides USB2 |
| | J11 | Provides USB2 or USB3 (see hwconfig) |
| | J10 | Provides USB2 |
| GW640x | J9 | Provides USB2 |
| | J11 | Provides USB2 |
| | J10 | Provides USB2 |
| | J12 | Provides USB2 and USB3 |
| GW551x | J6 | Provides USB2 |
| GW510x | J6 | Provides USB2 |
| GW52xx | J7 | Provides USB2 |
| | J8 | Provides USB2 Shared with front pannel OTG (see gw5200 USB wiki page) |
| GW530x | J6 | Provides USB2 |
| | J8 | Provides USB2 |
| | J9 | Provides USB2 |
| GW540x | J6 | Provides USB2 |
| | J7 | Provides USB2 |
| | J9 | Provides USB2 |
| | J8 | No USB |
| | J10 | No USB |
| | J11 | No USB |
Attachments
(2)
Download all attachments as: .zip