MiniPCIExpress Accessory Modules
Gateworks SIM, USB, and micro-SD Adapter - GW16103
This is a very popular adapter to allow cellular SIM.
Please check out the full features: GW16103 Adapter Wiki Page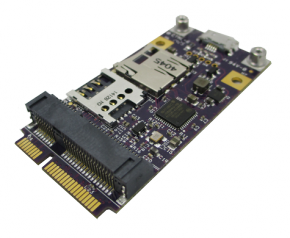 USB Adapter - GW16112
This is useful for adding more USB ports. This only works on Mini-PCIe slots that have USB routed to them. Consult the user manual for which ports these are, or look at the silkscreen on the board.
​Please read here for more information on the GW16112
Iridium Satellite Modem - GW16130
CATM1 Cellular Modem & Bluetooth - GW16126
Digital / Analog IO Card - GW16113
The GW16113 board offers the following:
Analog I/O Functions Include ADC, DAC, PGA, OPAMP, and Comparators Digital I/O Functions Include GPIO, PWM, I2C, SPI, UART, Counters, and Timers
Please read here for more technical information on the GW16113
Video / Audio Cards
AVC8000nano - Video capture card for QTY (8) D1 analog inputs.
Gigabit Ethernet Cards
Please see our Gigabit information page: Gigabit Ethernet Mini-PCIe Cards
Mini-PCIe Mechanical Specification
Please see here: PCI
Attachments
(2)
Download all attachments as: .zip