SUSE Linux Operating System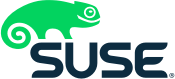 SUSE is a paid and supported Linux operating system. SUSE is an OS to consider over the free open-source OS's (like Ubuntu) when a customer needs a longer support cycle, a guarantee of stability, technical support and some certifications. SUSE is software that is for sale.
At this time, SUSE has only been tested on the Newport Family of SBCs.
SLES - SUSE Linux Enterprise Server
SLES 15 has been validated on a Newport GW63xx SBC.
A pre-built disk image is available for initial development. Contact the support team at Gateworks to download this image.
Use the Gateworks Update Script instructions to flash the disk image to the eMMC over TFTP.
Customers wishing to use SLES will work directly with SUSE.
OpenSUSE
While this may work on a Newport SBC, it is not something Gateworks is supporting at this time.
Attachments
(3)
Download all attachments as: .zip
Note:
See
TracWiki
for help on using the wiki.